LG G6 may come with water-proofing and wireless charging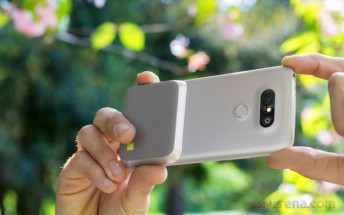 The Galaxy S8 is not the only hotly anticipated flagship for February next year. LG is also expected to unveil the LG G6, the successor to the innovative G5.
The first reports on the LG G6 brought us some interesting info - the G6 will be dropping the Friends expansion in favor of a sealed body and seamless design. While this might anger the removable battery fans, it was welcomed by those who didn't believe the Friends module added substantial value to the offer.
The latest rumor sheds more light on the G6 - the company began to use water-resistant adhesive on its LG G6 displays and this suggests the flagship may indeed feature a water-proof body.
LG's V series has a good track record of enhanced protection against splashes and shocks, and with the Galaxies getting all water-tight, it's only reasonable for LG to try and match its rival. The company has already released a Japan-exclusive V34 water-resistant smartphone (a V20 offspring), so there is that, too.
Another rumor adds wireless charging to the next G flagship, as well as a yet to be launched mobile payment service. Those surely make sense as the demand for both is growing.