LG G6 rumored to keep headphone jack, integrate the battery, and use glass in hardware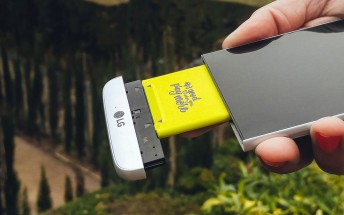 The
LG G5
was not exactly the most popular device of the 2016. Its idea of modular hardware as add-ons to a smartphone was there, but sadly the implantation was not. LG's modular "Friends" and the addition of a second wide-angle camera was not enough to get users to go crazy over the LG G5.
Journalist David Ruddock tweeted about report of a few possible changes to the LG G6's hardware. According to Ruddock's source, the LG G6 will finally integrate the battery into the phone, meaning that it would no longer be swappable or removable. The market has generally accepted the use of integrated batteries in smartphones, although there are certainly road warriors who love the ability to swap a battery out for an instantaneous, 100% charge.
LG is also said to be going for a drastically different hardware design. The smartphone will feature a mix of metal and glass materials, closer to what Samsung is offering these days. Specifically, the G6 would feature a "highly reflective metallic material on the rear." So it sounds like the build will lean toward a more elegant design than the V20 and G5's current robust and all-metal body.
Lastly, LG is to keep the headphone jack on the G6, opposite of what Apple has done and Samsung is to do for the Galaxy S8. LG's V20 features Quad DAC for high quality output through a headphone jack. It would only make sense for LG to keep Quad DAC for the G6 to cater to audiophiles.
What do you all think of these rumored changes? Current LG owners, do you like LG's idea of integrating the battery or should LG just keep it removable?