Motorola announces two new MotoMods: a Mophie Juice Pack and an Incipio Car Dock
Today Motorola has taken the wraps off two new modular accessories for its Moto Z line of smartphones. The snap-on MotoMods in question are the Mophie Juice Pack and the Incipio Car Dock.
The former (seen on the right in the image below, attached to a Moto Z) packs a 3,000 mAh battery, bigger than we've seen in any other MotoMod to date. It has a status indicator light and a USB Type-C port which lets you charge it separately from the phone. It's priced at $79.99 and can already be ordered from Verizon.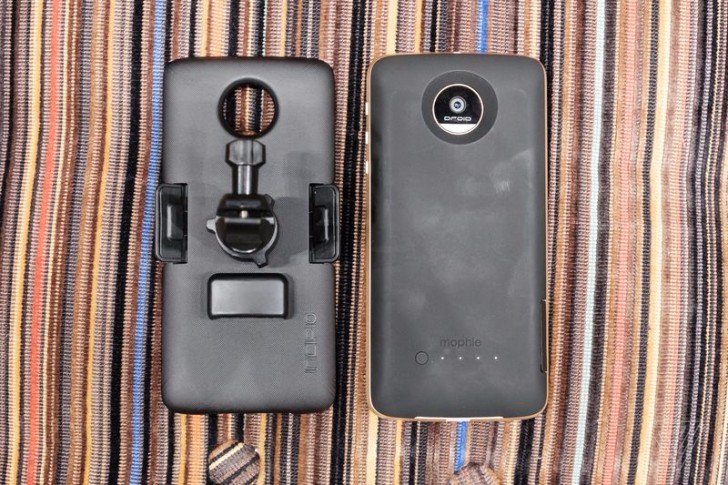 The Incipio Car Dock (on the left in the image above) has a self-descriptive name. It mounts into your car's air vent, and can hold your handset vertically or horizontally. When the phone is docked Android Auto will launch automatically. The Incipio Car Dock charges your Moto's battery and lets you connect the device to your car's stereo system through a 3.5mm output. This one will cost $64.99 when it becomes available in the "very near future" (which is also when the Mophie Juice Pack will start shipping).
Motorola plans to release even more MotoMods in 2017 compared to this year, at a cadence of four per quarter. So expect to see a lot more of these slightly overpriced accessories for its flagship smartphone line. Maybe even one with built-in Tango augmented reality tech.