Garmin announced three new Fenix smartwatches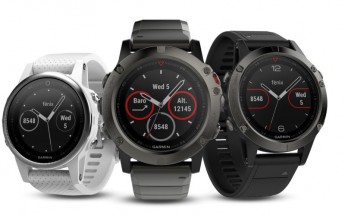 There are lots of devices for you if you want to own a smartwatch. But if you are tech geek and you are really into sports then you better check out what Garmin announced at CES - three new high-end athletic watches. The Fenix 5 debuted alongside its bigger edition Fenix 5X and the Fenix 5S, the first device specifically designed for women.
All three watches have GPS and GLONASS to measure metrics like pace, distance, speed and pulse and have preset sports and actions incl. running, biking, hiking, triathlons, paddle boarding and even golf. They also sport Garmin's QuickFit release system which lets you quickly and effortlessly swap bands.
Fenix 5 has 47mm diameter display and carries a battery that will last up to two weeks normal usage or up to 20 hours in full racing mode with heart-rate tracking and active GPS. The stainless steel bezel acts like an antenna. The heart rate is visualised at the same time with an elevation vertical image of your run so you can monitor your pace and perform in optimum mode.
There is also an estimator about the maximum volume of oxygen you can consume per minute depending on the preset activities and the Fenix 5 can also recommended you recovery time for your last workout.
Fenix 5S is a smaller version of the Fenix 5 (hence the S) but is delivering the same high-end Garmin performance. The watch is 42mm and has a smoother design. It can last up to 13 hours in racing mode.
Being smaller isn't about being cheaper - Garmin actually is targeting this product to ladies with even more available QuickFit bands. All the functions that could be found in the regular-sized watch are also available here - Training Modes, Recovery Advisor, Functional Threshold Power etc.
Fenix 5X is clearly the most powerful option from Garmin. It is larger (51mm) and has features that the other watches lack. It comes with preloaded topographic US maps, routable cycling maps and turn-by-turn navigation. Also there are Round Trip Run and Round Trip Ride which suggest a route based on how far you would like to run or bike. And most of all - the device has Wi-Fi and scratch-resistant sapphire glass.
The devices could be found at Garmin's website. Fenix 5 and Fenix 5S are priced at $600 and Fenix 5X is $700.