These are the glass panels for the Galaxy S8, allegedly\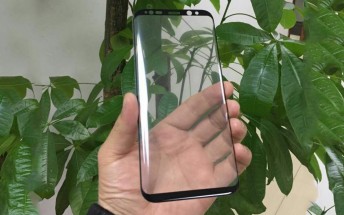 A couple of days ago, someone on Twitter published a couple of photos of what are claimed to be two glass panels for the Galaxy S8 in two different sizes (both of which are, in fact, curved). The tweet was written in Polish, so naturally, it took a little longer to surface mobile news.
The first thing you may notice on these glass panels is that there are more openings set aside for sensors than we saw in the renders and dimensions that first leaked. Given that these renders were likely sent to case makers for pre-production design, perhaps it was not a finalized one.
There are many more openings here than there were on the Galaxy S7. Perhaps these extra openings are to accommodate more sensors than usual. In fact, if you recall, the Note 7 had a couple of extra openings to accommodate the Iris scanner.
In any case, the person responsible for the tweets says the source of the photos is a screen protector supplier in China. He claims his source hasn't been wrong before, but still can't confirm that the source is 100% legitimate, because, well, you never know.
So far, all we can say for sure is that the S8 will have some really small bezels. The Galaxy S8 is rumored for an official announcement on March 29 with a release following in April. What do you think about these glass panels? Do you think they might be the real deal?