Just in: Samsung Galaxy A7 (2017) hands-on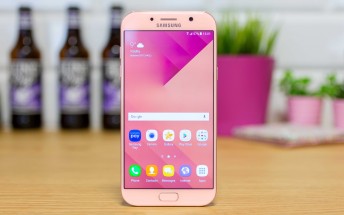 A few months after
we welcomed
the Samsung Galaxy A5 (2017), here comes the
Galaxy A7 (2017)
. It arrives two months after the official launch, but hey, it is the biggest and heaviest in the current A-series family - we guess it needed extra time to get itself to the office. Jokes aside, the Galaxy A7 (2017) was initially released on a limited set of markets in Eastern
Samsung Galaxy A7 (2017) is the third and final (for now) member of the new Samsung A-list. The other two -
Galaxy A3 (2017)
and
Galaxy A5 (2017)
already passed our review tests with flying colors. Now it's time for the biggest of them all, but before that, here are our initial impressions.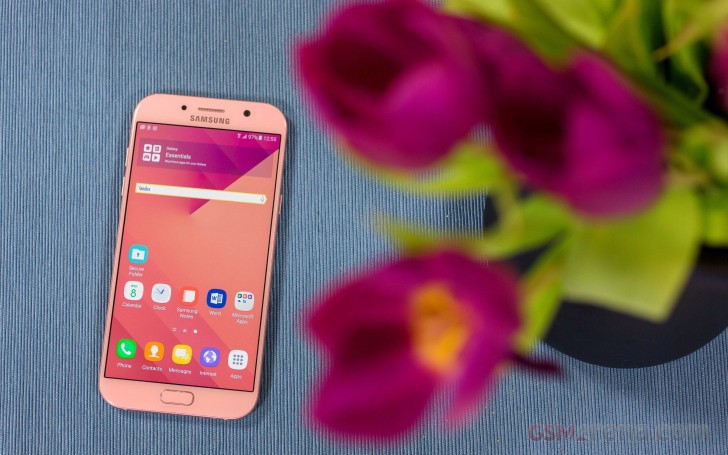 The first and most important distinction of Galaxy A7 (2017) from the other A-series smartphones from 2017 is that it won't be available everywhere. For example, it will not appear in Europe.
Samsung is one of the few companies that keep making pink smartphones that are actually pink. Some might argue the actual color is coral, peach blossom or salmon and the Galaxy A7 (2017) is, in fact, all of these, depending on the light. The color's official name is "Peach Cloud" and it does look special.
The 5.7" screen of Galaxy A7 (2017) has Samsung's in-house Super AMOLED display with FullHD resolution. Inside the device ticks the same octa-core Exynos 7880 chipset that was used in the Galaxy A5 (2017). The memory and storage also match the smaller sibling - 3GB RAM and 32GB internal storage. There is a separate slot for microSD that does not compromise the Dual SIM slot - you can have both SIM cards and plenty of storage.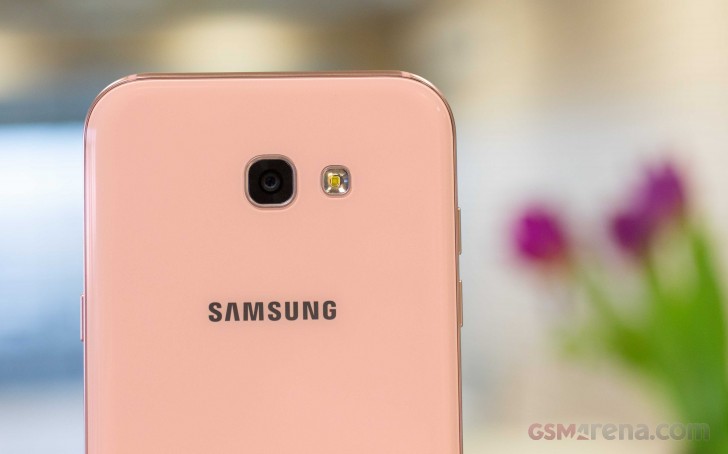 The battery is 3,600 mAh and thanks to the 14nm power-efficient SoC, it should last you for quite a while between two charges.
Sadly, phone ships with Android 6.0.1 Marshmallow. On top of it is Samsung's latest launcher - GraceUX, as it's called. You probably remember the interface from the Galaxy Note7, a brilliant phone with unusually short life.
A new feature in Galaxy A7 (2017) that Samsung implemented in this year's A-series is the IP68 certification. I accidentally spilled some coffee over the speaker and then washed it away effortlessly. [Editor's Note: Please tell me you didn't!]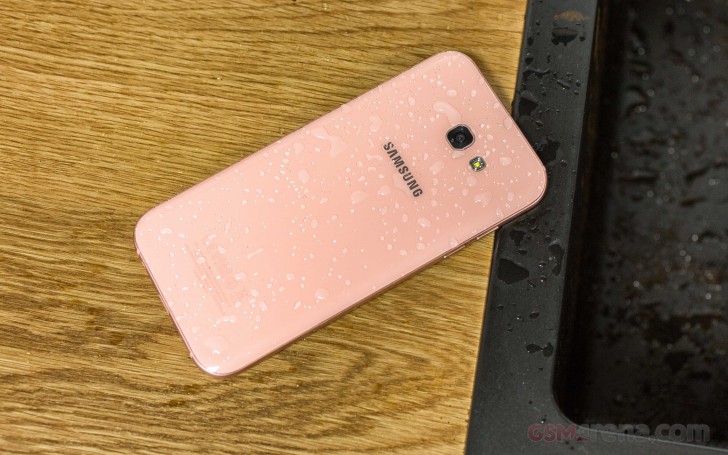 Another similarity to the lower A3 and A5 models is the speaker placement. It is unusually placed on the right-hand side of the device above the power key.
Everyone in the office is wondering will the Galaxy A7 (2017) somehow outperform the A5 (2017) despite having the same hardware. It is time to take the device to the labs and roll up our sleeves. Stay tuned!