T-Mobile unboxes the Galaxy S8 among sharks, Samsung gives an ostrich a new Gear VR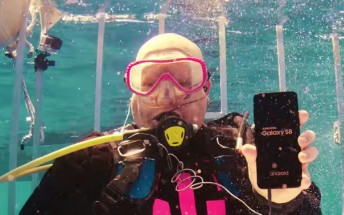 As you may know if you've looked at our homepage in the last few hours, today
Samsung finally took the wraps off its newest flagship smartphones
, the
Galaxy S8
and
S8+
. They will be up for pre-order at carriers such as T-Mobile starting tomorrow. In the meantime, the magenta company has sent its resident video unboxer underwater to show you the Galaxy S8 while surrounded by sharks. No, really, take a look:
If that video simply wasn't strange enough for you, then stick around because Samsung itself has prepared something even more outlandish. It's basically the answer to the age-old question: would an ostrich be able to fly in VR? We can't be sure, but the Korean company's new ad for the
new Gear VR headset
features an ostrich using that device.
Stay tuned for more coverage of Samsung's latest and greatest.