Facebook Messenger gets "M" assistant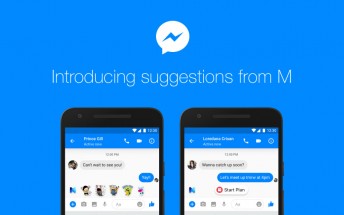 Facebook Messenger has released a new assistant called "Messenger M". We're actually quite glad it was not named "M assistant. But anyway, the premise of M is: you can receive suggestions to take actions (right from the message screen) based on the context of your conversation. All this sounds quite familiar… is starts with "Google" and ends with "Assistant".
No, no, M is not a fully-fledged smartphone assistant. It's more like Google Assistant's debut in Google Allo when it first came out (The major difference is that Facebook Messenger already has 1 billion monthly active users). M can offer suggestions via a pop-up bubble that can send money to your friends, request a car with ride-share apps, and coordinate plans with friends.
The best example of this is: when your friend asks "Where are you?", M will suggest that you share your location with them. Tap on the suggestion bubble, and you don't have to dig through chat menus to temporarily share your pin-drop. You can also tap and hold on the suggested bubble for even more suggestions. Swiping it to the side will dismiss the suggestion.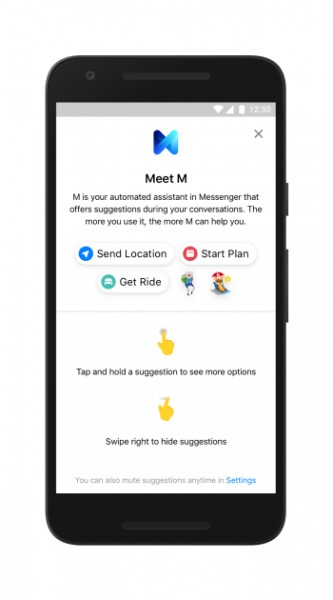 Facebook has actually been testing a couple of these features for a while. Most notably, the ride-sharing suggestion has been active anytime you mention a cab, a new address, or mention needing a ride.
Starting today, the following core features will be available on Messenger M:
Sticker suggestions
Requesting or sending money
Location sharing
Making plans with a friend (sets a reminder for recipients of the chat)
making polls in group chats
Requesting a ride from Uber or Lyft
Currently, Messenger M is now rolling out to all iOS and Android users in the United States. Those of you who may find yourself outside the US will see the update "eventually" roll out. Facebook says we should expect to see more AI-powered features that enhance the overall experience.
If you're not crazy about any of the M features, you can easily mute the assistant in M's settings.