Huawei Enjoy 7 Plus goes official: big screen, big battery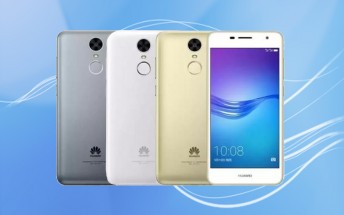 The Huawei Enjoy 7 Plus joins the company's budget lineup and it stands a cut above its siblings with its 5.5" display (the previous Enjoys all had 5" displays). The design is largely identical to the Enjoy 6, but the hardware has some marked differences.
Obviously, the screen is bigger, though it keeps the low-ish 720p resolution. Endurance should be a highlight of this phone as it boasts a 4,000mAh battery (100mAh less than the Enjoy 6 battery, but still a good size).
The chipset is replaced with a Snapdragon 435, which promises a good balance between performance and power efficiency. RAM is 3GB, but the storage was doubled to 32GB.

Huawei Enjoy 7 Plus
The Huawei Enjoy 7 Plus has a new camera setup as well. A 12MP cam adorns the back, while an 8MP cam on the front is ready for your selfies. By the way, below the camera on the back is a fingerprint reader.
The 7 Plus will launch in China first with a recent Android 7.0 Nougat, priced at CNY 1,600. That's around $230/€220, though expect it to cost a bit more once it reaches other countries (due to local taxes). And no, we don't know what happened to the non-Plus Enjoy 7.